■ FLUSH TYPE QUICK RESPONSE 
SPRINKLER HEAD
The thermal body of the flush head is a low melting point ally which consists of lead, 
ambient temperature increases due to heat, the ally fuse melts and diflector is lowered. 
The lead is designed with minimum size and is not exposed to the outside. After the 
construction, the ceiling there are few protruding parts from the ceiling, so flush head 
good for officetels or hotels where are concerned with aesthetic value.
■Specification
Model No.

SWF-Q1

SWF-Q2

Working Temperature

68˚C

93˚C

Maximum Ambient Temperature

39˚C

56˚C

Temperature Indication Color

Red

Green

Response Time Index

Quick Response Type / Standard Type

Spray Form

Pendent Type

Connection Screw Size

PT1/2" (15A)

Orifice Diameter

Ø11.2

Flow Rate

80 LMP (1kg/㎠ - 1min)

Test Pressure

2.5Mpa

Material

Forged Brass

Finishing

Ni-Cr plate
■ Indicating Items
| | |
| --- | --- |
| Heat Collector | Manufacturing year, SSP, Operating temperature, SWM, FS, QR, r2.6 |
■ Assembly Drawing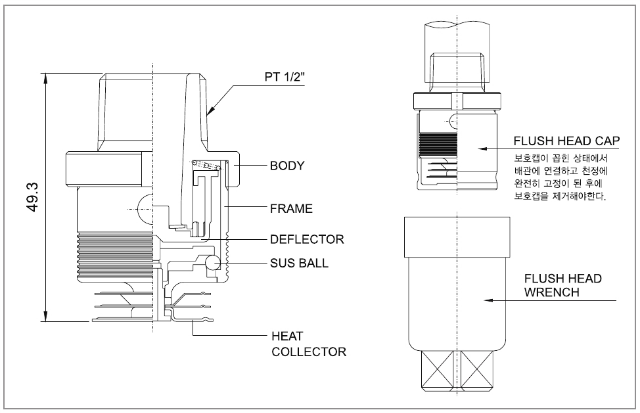 ■ Installation Drawing